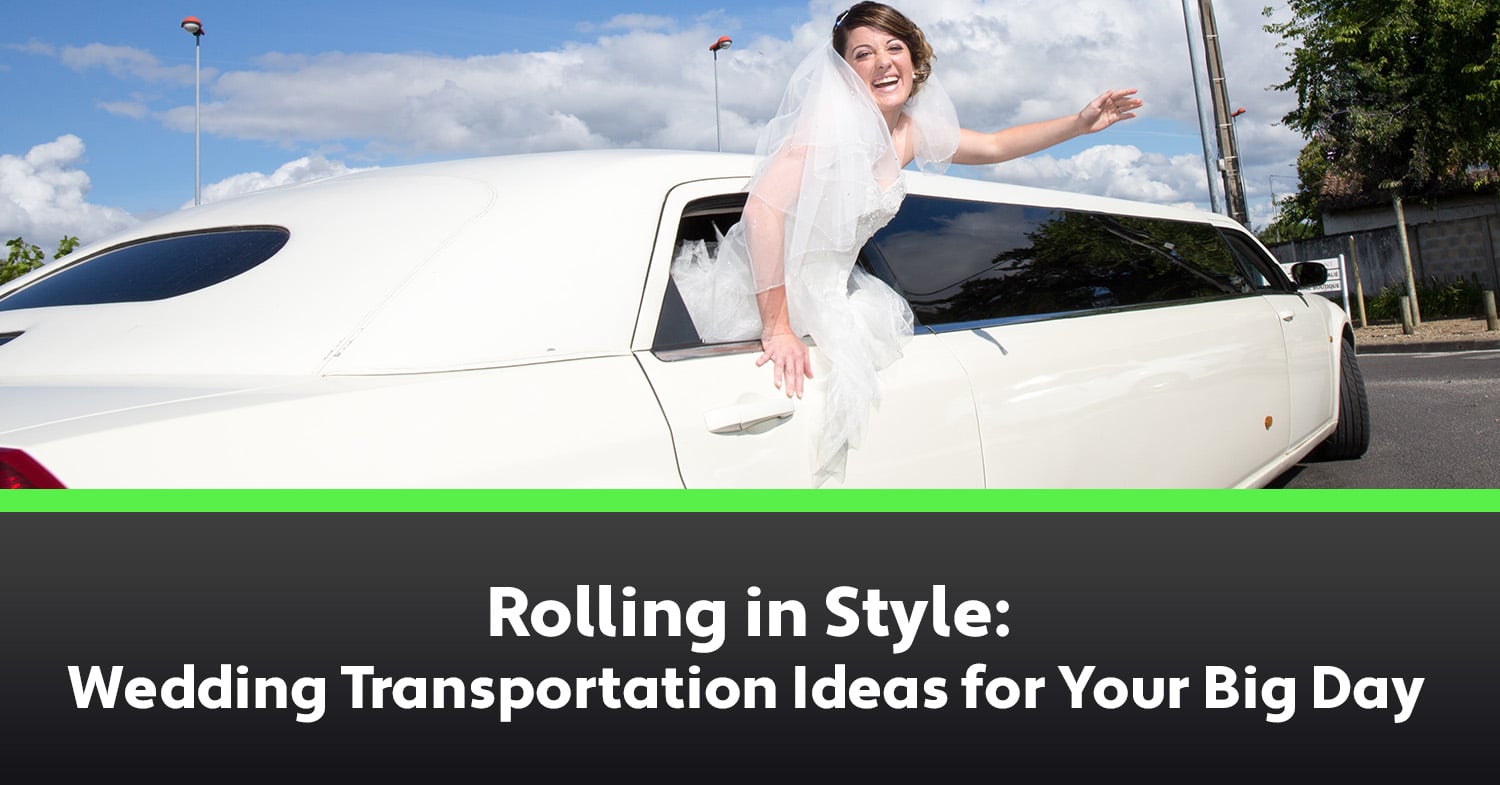 Planning wedding transportation isn't the most glamorous task, but it is essential. It's not only about getting from one place to another safely, but making a statement and having fun! To help you decide, here are some ideas for your big day.
Vintage Car
Add some old-world charm to your wedding with a vintage car. This option is sure to add beauty and character to the day, and of course, they look amazing in wedding day photos!
A vintage car likely won't have room to fit more than the bride and groom, but having alone time can be a much-welcome break after mingling and partying it up with all your guests. Keep in mind if you're going to be driving away in a vintage car, you'll want to keep your drinks during reception to a bare minimum (no drinking and driving!).
A vintage car is a great option for couples who have a passion for old cars and want to enter or exit their wedding in style.
Golf Cart
If you're getting married at a golf course or are staying close to your wedding venue, a golf cart is an ideal mode of wedding transportation. A golf cart makes it easy to move around quickly without breaking a sweat or paying for gas.
While a golf cart might not be the most romantic transportation for a wedding day, it can be practical. If you want to make your getaway in your golf cart even more fun, decorate it with banners and signs to add to the celebration.
For those not needing a serious mode of transportation on the big day, cruising around in a golf cart is a great idea.
Horse and Carriage
For the ultimate fairytale vibe, a horse and carriage will certainly deliver. This will make for a grand entrance at your ceremony or a truly unforgettable exit to your reception. Most carriages can fit between two and six passengers, so you may be able to bring your wedding party along. Remember that horses won't go nearly as fast as a car or bus, so make sure your final destination isn't too far away.
If you want to feel like a prince and princess on your big day, a horse and carriage ride may be the best option for you.
Limo
Getting a limo rental is a popular wedding transportation choice, and for good reason. Limos are spacious and luxurious, providing a comfortable and stylish ride for the bride and groom. When you hire a limo for your wedding day, you set the tone for a glamorous celebration.
You'll arrive and leave in style, and with a limo, the more, the merrier! Bring along all your groomsmen and bridesmaids to have some fun as you move from the ceremony location to the reception.
A limo is the perfect option for those who want to feel like VIPs on their wedding day or are having a classic or traditional wedding.
Party Bus
Looking for something a little more party-focused? A party bus is a lively option for wedding transportation, providing a festive atmosphere and ample space for large wedding parties!
This is an option if you're ready for a journey as fun as the destination. Not only is size an advantage with a party bus, but they also provide entertainment and amenities, which can include a killer sound system, laser and LED lights, a place to put drinks, and even a stripper pole in some buses. This can make transporting your whole crew from ceremony to reception a blast or even provide a space to have an after-party when the reception wraps up.
Did we mention the bride and groom are free to party it up at the reception without worrying about driving themselves home? With a party bus, not only is it a great time, but there's no need to be cautious about drinking as your chauffeur will make sure you get home safely.
For those who want to celebrate in the most memorable way, a party bus is the ideal transportation option for a fun and unforgettable ride!
Let Us Help You Make the Most Memorable Wedding Day
There's so much to handle on the day of your wedding – transportation shouldn't be one of them! If you want wedding transportation that will be fun, memorable, and worry-free, look no further than Scottsdale Party Bus & Limo to assist you.
We are your go-to for your Arizona party bus and limo rental needs and have the best selection of vehicles with all the essential features you're looking for. From rehearsal dinners to transportation after the reception, we look forward to providing you with wedding limo or party bus transportation services. We can't wait to be your chauffeur and help you create a wonderful memory on your special day!
Share This Article: