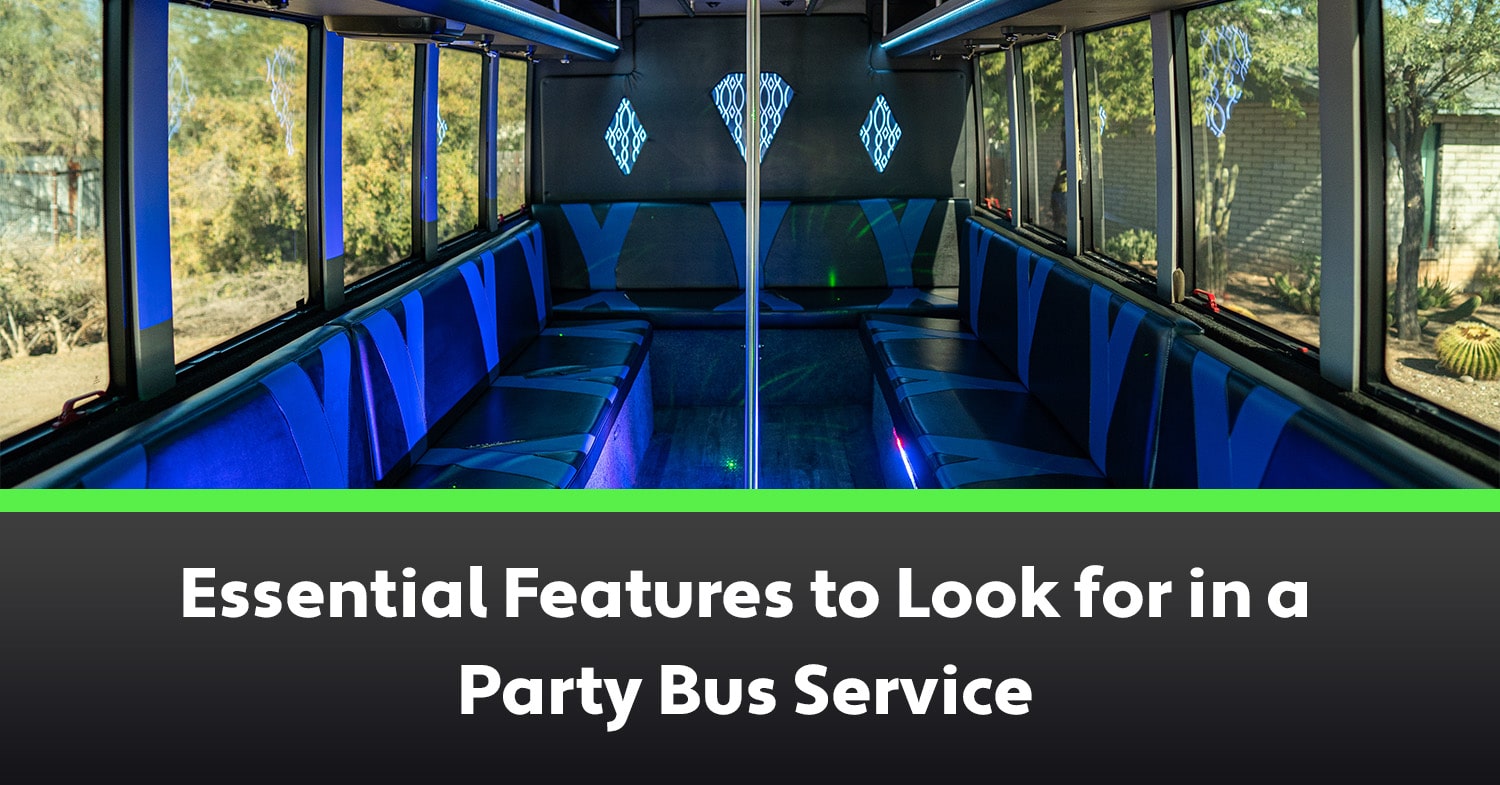 Whether it's a big night on the town or a special celebration, you want to get to where you're going in style. A party bus is the only way to go – but there are a few features that you need to make sure your bus has. Here are the essential features to look for in a party bus service to ensure your experience is the best.
Safety First
One of the first things you need to look for in a party bus service: safety standards. After all, they're going to be carrying some precious cargo in the form of you and your friends, and you need to be sure you're going to be safe all night.
Before you hire anyone, ensure that their service is up to snuff with safety. Check to see if their buses are up to code and have all the necessary safety features. And don't forget about the drivers. Make sure your driver is licensed and has a clean driving record.
Seating Capacity
Whether you want a night out with your tight group of 12 or you want to party it up with 50 people, you need to make sure the party bus will fit you. And not just fit you, but accommodate everyone comfortably.
So before your event, know how many people will be coming with you on your party bus, and then look for a company that will be able to fit your party. If you hire a bus for 20 and try to load 30 people, some people will be left off for safety reasons. So make sure the company can accommodate different party sizes. If you think you need to size up your bus before your event, a company with a lot of options will be able to accommodate you easily.
Comfort
Another feature you want to look out for is comfortable seating. Not just room to accommodate everyone, but seating that is actually nice to sit on! You and your friends will be spending some time on the party bus, whether you're bar hopping, heading to a baseball game, or doing a few laps in the bus to have some party time. So making sure your behinds are comfortable on quality seats is worth looking into to.
Lights, Sounds, Entertainment
A party bus service is here to provide just that – a party! Your party bus isn't just your ride but an experience. Look for features that will add entertainment and value to your special occasion. Premium features like sounds, lights, and entertainment will help you keep the party going with your friends all night long.
How boring would it be to get on a party bus and not listen to anything? Or worse – just the radio? Look for a party bus service that has a sound system or Bluetooth features, so you can blast your favorite playlist. Also, it's not a party without proper lighting. A party bus service with LED and laser lights in their buses and limos will make the environment more thrilling and fun. And a built-in stripper pole will only add entertainment and laughs to your night. The stripper pole might not be an essential feature for your night, but hey, it's fun!
Extra Room
What's the point of a party bus if you can't dance?? The party bus service you hire should have all their buses fitted with enough space for mingling and dancing. And having space isn't just important for partying and dancing the night away – it's also important to make sure you can fit all that's coming with you. Your bus needs space for all the bags, coats, and booze while still having enough space for you and your friends to have fun.
Space for Drinks
Regardless if you're planning a bachelor party of a sweet sixteen, you're going to need room for your drinks. Not every occasion calls for alcohol, but whether it's beer or sparkling apple cider, it's more fun to bring drinks along for the ride.
And it's not just making sure a party bus allows for drinks to be brought on board. Look for a party bus service with chilled coolers on board so your drinks can stay cold all night and be served in style. Because who likes to drink lukewarm champagne or soda, especially on a night when you're likely celebrating? The party bus service you should be hiring should make sure your ride is an unforgettable experience, and that means paying attention to the details, like providing coolers with ice and waters.
It's Time to Party
When you look for a party bus service with these features, you know you'll be in good hands and have the best experience!
If you're looking for a party bus for your event or night out, Scottsdale Party Bus & Limo would love to help you out! We are your go-to for your Arizona party bus rental needs and have the best selection of buses with all the essential features you're looking for. Whether you're looking to go bar hopping in Old Town Scottsdale or want to drive your wedding guests to the reception, we can't wait to help you create a fun memory!
Share This Article: