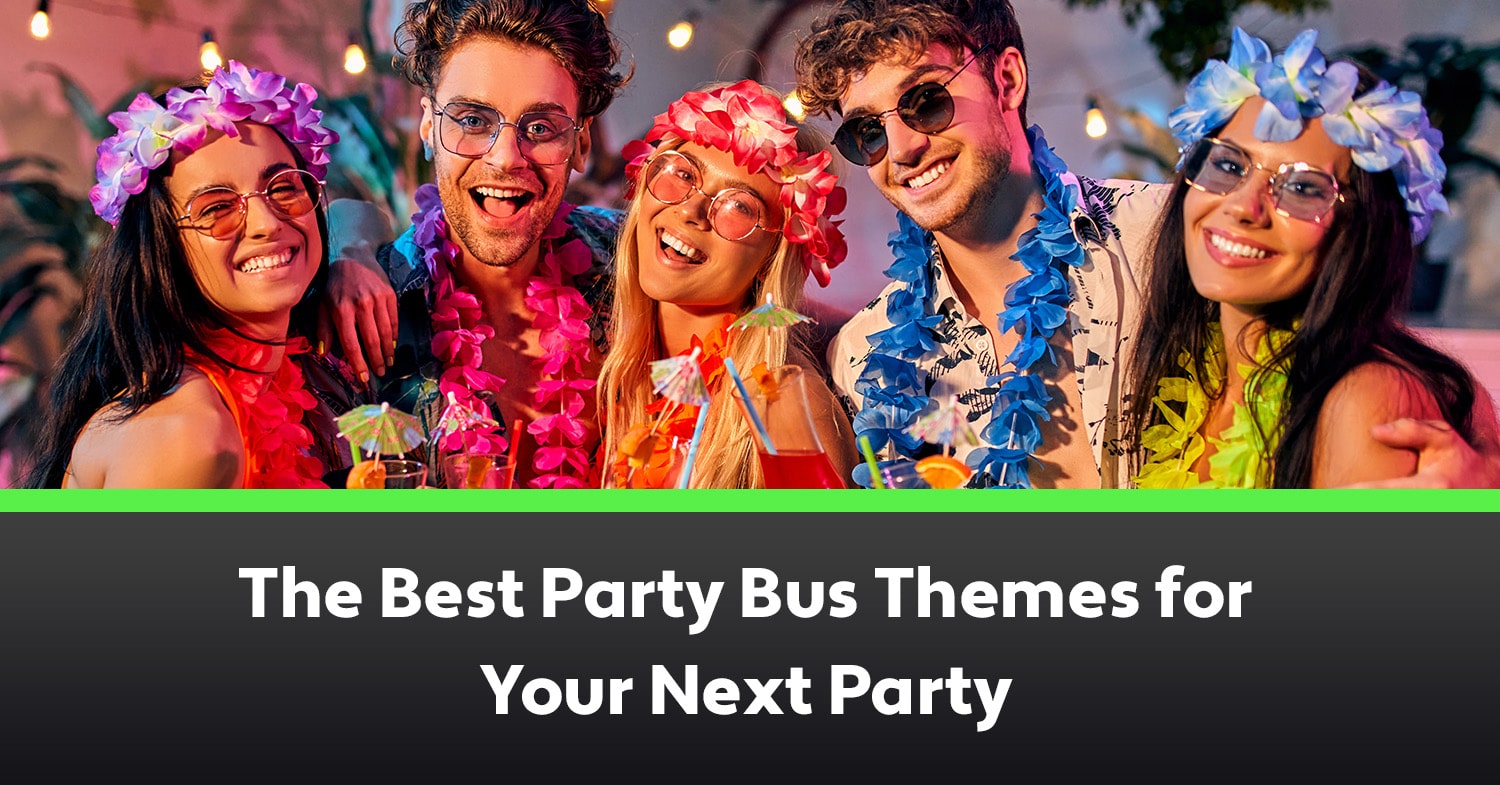 One of the best ways to make a party bus even more amazing is to choose a fun theme. Here are some great theme ideas to help you spice up an outing!
Tropical Beach
Bring the tropics to your party bus with a fun tropical beach party! Whether for a bachelorette, birthday, or you want to make your trip to Lake Pleasant a themed event, this is the perfect party theme for all ages. To make your bus feel more tropical, turn on some beach music, offer some tropical drinks (mai tais or tequila sunrises, anyone?), and hang some beach banners. Don't forget to blow up some beach balls as well!
One of the best things about party buses is the ability to bring your own drinks (and enjoy them while you ride) and the atmosphere that's already included. With a party bus rental, you'll get to enjoy LED and laser lights, a state-of-the-art sound system, and sometimes even a stripper pole. All you have to do is bring drinks, a playlist, and some decorations to have a good time!
For the final tropical beach party touch, ask your party group to dress in beach-appropriate outfits. Hawaiian print is encouraged.
Pajama Party
A party bus is already fun on its own for a bachelorette. But if you want a theme the girls will love – consider a pajama party! You can spend a fun night on your bus partying it up in comfy pajamas and bedroom slippers. Bring some cozy pillows and blankets to help set the vibe. And what better music to play than the music you grew up listening to at slumber parties? This is also the perfect time to break out fun games like Truth or Dare.
80s Work-Out Party
If you want everyone to pull out the stops and get decked out for a themed party, we suggest throwing an 80s work-out party on your party bus! Spandex, neon, and big hair are the dress requirements for this party. Create an 80s playlist and enjoy drinks while you all dance it up on the bus.
Looking for a place for your party bus to stop at? Consider heading to the Starfighters Arcade in Mesa. This retro arcade offers over 160 rotating vintage games and pinball machines and is the perfect spot to throw an 80s throwback event.
Murder Mystery
A murder mystery party, but make it more challenging by throwing it on a party bus. Gather your murder-mystery-loving friends and invite them to a night of solving puzzles!
Before the night begins, assign everyone a character and backstory. When they show up at your home to start the party – the unspeakable happens – a murder! But you all can't stay there. What if the murderer slips out through the back door? No, you all must be in one space that no one can leave…a party bus! Solve the mystery while you drink and enjoy the party bus experience.
Casino Royale
A casino royale party is the perfect theme for a bachelor, bachelorette, or birthday party. The concept is relatively simple, but that makes it easy for everyone to participate and enjoy. Decorate the bus with card banners, fake coins, and gold and red curtains. The requested attire: elegant dress. That means tuxes or suits and beautiful dresses and heels. Throw some champagne in the built-in cooler or enjoy some on-the-rock beverages. Have your bus drop you off for some casino time if you want to stay on theme!
For our bachelor and bachelorette parties: if you really want to make this party night unforgettable, hire a stripper to join your party on the bus. Whether you're looking for a little mild or raunchy and wild, a stripper will help make this classy night into something everyone will remember!
Wait – What's the Theme?
This theme is fun if you like a little chaos and want to have a good laugh with your friends. As the host, individually tell every friend or couple a different theme for the party. So, for example, tell one couple the theme is 80s, for another couple, the theme is jungle animals, and for another friend, the theme is wild west.
Your party bus can make multiple stops, so as you pick everyone up, guests onboard will begin to realize they're all dressed differently. Everyone will look goofy, laughter will ensue, and the party can begin!
It's Time to Start Partying
We hope you enjoy these party themes and use them for your time on a party bus!
If you're looking for a party bus for your event or night out, Scottsdale Party Bus & Limo would love to help you out! We are your go-to for your Arizona party bus rental needs and have the best selection of buses with all the essential features you're looking for. Whether you're looking to go bar hopping in Old Town Scottsdale or want to drive your wedding guests to the reception, we can't wait to help you create a fun memory!
Share This Article: